I'm on the needle. This can quickly be noticed as soon as you see my pictures. I rarely leave the house without my next picture, yarn and needle in my bag. Unlike many other artists, I am not tied to a studio with my pictures. I can work wherever I want. On the train, during the lunch break at work, in the waiting room, at the park. For many, that's an unusual sight. There sits a bearded man and he's embroidering a moorland.

I learned embroidery many years ago in craftwork lessons at school and did not think about it for a long time. Until 2012, when my girlfriend at-the-time found a cross stitch pattern she liked. "Cross stitch? I learned that 15 years ago. I get that. " I said and bought material. A short time later the first picture was finished and my new hobby was born.

Two years and various cross-stitching works later, in January 2014, I discovered an old tapestry at a flea market. A classic black forest mill, roughly embroidered in a wooden frame. One look and I knew that the picture is missing something decisive. Where is the Deathstar on the horizon? The picture had to be saved. So I bought it, got me the right yarn and started the conversion work.

When I was finished, I wanted to figure out how to call what I did: taking old embroidered pictures and incorporating new content. Google was no help at all. After hours of searching, I had to realize that I am probably the first one to come up with the idea. What I found in this search, however, is the redirecting or repurposing of old paintings. I should deal with this stuff later. To this day I have not come across a striking name for my art form.

Every time I visited the flea market and second hand shops, old tapestries and paintings suddenly fell into my hands. I wanted to give these unloved pictures a second chance in modern dwellings. A few months later, a bunch of my embroidered tapestries and redirected pictures hung in the gallery of a couple I'm friends with.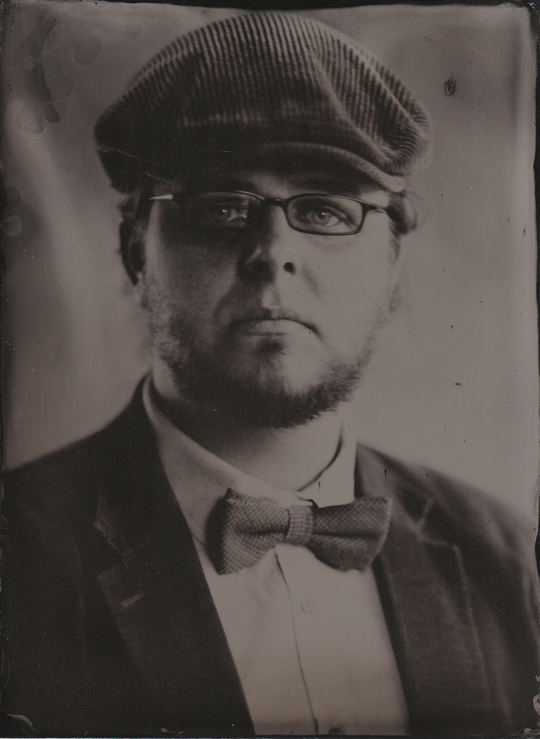 born January 21, 1983 in Hanover
grew up in Hermannsburg as the youngest of three children
resident in Hanover-Linden
freelance artist since 2014
"Culture Hacker"
FAQ
Since when are you doing art?
I have always been creative since childhood: drawing, painting, tinkering all the time. If I could not work with my hands, I quickly got bored.
In 2009, I started producing and selling bowls and other decorative objects made from records under the name "Plattenbau Linden". Since my art takes more and more time, I stopped that by 2016.
In 2012, I discovered cross-stitch as a hobby and since 2014 I dedicate myself to the hacked tapestries and paintings.

What is your art called?
There are many directions coming together in my art. I do not have a comprehensive concept. Pop Art, Culture Hacking, Upcycling, Lowbrow, Geekart, Redirected Art ... it somehow fits everything.

Did you grow up with tapestries?
No, such pictures never hung at our place. In general, there were never many pictures. My father doesn't care a lot for art, my mother has a heart for Rosina Wachtmeister and Wassily Kandinsky.

Why do you put so many things from movies and computer games into your pictures?
I grew up in a village as a child and as such mostly grew up being outside. The only things on TV for me were Sesame Street and Disney Club. My older brother had a C64 where I sometimes could play Giana Sisters and the consoles of my childhood were an Atari 2600 and the classic Gameboy. Cable TV was only available at the neighbours' house, when their grandchildren were visiting during the summer holidays. In my childhood, pop culture has almost completely passed me by. It all changed with my first own computer and the Internet in the middle of the 90s. The village kid became a geek. Simpsons, movies, computer games have caught me full. With self-earned money, I then consulted a console collection and could finally play all the games, which I only read about years ago at the Club Nintendo magazine. With the years I became a full on geek.
Tapestries consist of fairly coarse meshes. Many of these pictures are like the background of classic adventures. It is not a long way from stitches to pixels. Thus figures from computer games fit exceptionally well into tapestries.

Are you creating the complete pictures by yourself?
No, I use old tapestries that were made decades ago. I take the pictures from their frames, remove the threads at certain points, and embroider new threads. The threads are then fixed and the image returns to its original frame.

How much time do you need for a picture?
It depends on the size and complexity of the image. For some pictures I need 12 hours, for others 2 months.

Where do you get your material from?
I get the pictures on flea markets, second hand shops, from friends and from online auctions.

How can I buy one of your pictures?
If you can't catch me at an exhibition, just send me a message. I will then tell you whether the desired image is still available and how expensive it is. Since the pictures have very different sizes and weights, I decided against an online shop because of the shipping costs.

What do your pictures cost?
Die meisten Bilder kosten zwischen 200 und 400 €.

Can I order a customized picture?
If I find the job exciting, we could talk about commissioned work. The prerequisite is, however, that we find the right raw picture for the work.